Who We Are
Diversity, Equity, Inclusion, Justice
Statement of Commitment
The Benioff Ocean Science Laboratory recognizes the deep abuses committed as a result of systemic racism, white privilege, and environmental injustice. We understand it is our duty, as an organization and as individuals, to take concrete steps against these abuses and towards a more equitable and inclusive approach to addressing the problems facing our oceans and our communities. Therefore, the Benioff Ocean Science Laboratory commits to promoting diversity, equity, inclusion, and justice (DEIJ) in our field of marine science. We proactively strive to bring the voices, intellect, and talents of people of all colors, backgrounds, and identities into our work to further science and conservation, and we commit to taking concrete actions to achieve our vision of a more diverse and inclusive organization. The planet's health relies on all of us working together for the benefit of all.
Action Plan
To hold ourselves accountable to this commitment, we have developed a DEIJ action plan. This plan is a working document that may be updated and revised as the goals of the organization grow and change and as progress is made. The plan includes seven goals:
Identify resources and ingest new information to improve our individual and collective knowledge of topics related to DEIJ and anti-racism. Foster a safe and respectful environment that encourages sharing and communication.

Implement standardized recruitment and hiring processes that increase access and equity and reduce bias. Emphasize our commitment to DEIJ through these processes and pay staff and interns living wages.

Engage students and youth of underrepresented groups in the field of marine science through mentorship, partnerships, events, and accessible content.

Provide funding for career development opportunities and reduce barriers to participation in marine science for students from underrepresented groups at all education levels.

Increase the visibility and exposure of marine scientists from underrepresented groups by highlighting diverse experts and spokespeople in scientific working groups, media opportunities, panels, speaking engagements, social channels, and papers and citations.

Incorporate and prioritize principles of environmental justice (EJ) into all new and existing projects, proposals, and communications. Ensure all team members have access to EJ resources and expand our external network to include EJ organizations.

Hold ourselves and our organization accountable to our DEIJ action plan goals by taking action, measuring progress, and evaluating impact.
Sea the Future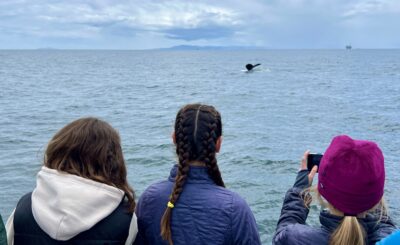 Sea the Future
We are piloting an annual mentorship program designed to pair local junior high students from underrepresented backgrounds in the marine and environmental sciences by matching them with UCSB ocean scientists. Mentors introduce students to career opportunities and support students' interest in ocean science specifically and the sciences generally.
Learn more
Benioff Scholars Program in Applied Environmental Science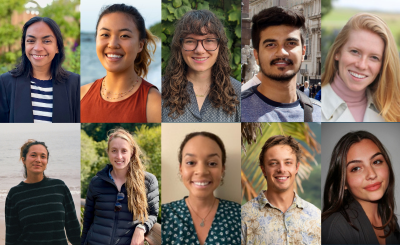 Benioff Scholars Program in Applied Environmental Science
Each summer, we support ten UCSB graduate students with $6000 research grants to advance science that has direct application for environmental problem solving. Preference is given to students who have financial, cultural, or other barriers, and who will broaden the diversity of underrepresented groups in the environmental and/or marine science community.
Kids, Coding, and Marine Science
Kids, Coding, and Marine Science
We hosted a science and technology maker's workshop for Native Hawaiian students in Kamehameha Schools to build underwater temperature sensors that were deployed in the Papahānaumokuākea Marine National Monument. This activity engaged students in answering scientific questions about how climate change will impact Hawaii's ocean.
Local Programs
We support programs throughout the UC Santa Barbara and broader Santa Barbara community that advance access to marine and environmental science by underrepresented groups. Learn more about these programs below.
FUERTE ("Field-based Undergraduate Engagement through Research, Teaching, and Education") introduces UCSB undergraduates into the exciting world of conservation science, marine biology and the exciting ways research in the outdoors can open up new worlds and career options.

DIVErsity in Diving eliminates barriers for UCSB undergraduates interested in marine field work by providing financial support, mentorship, and guidance for those looking to become scientific divers.

The Coastal Media Project is a nine-week summer intensive environmental media production and documentary studies program at UCSB.

A-OK ("After School Opportunities for Kids") is an after school enrichment program that provides a safe, fun, no-cost opportunity for kids to learn to swim.
Reading List
As a part of our DEIJ Action Plan, our team reads 1-2 books per year about DEIJ, anti-racism, and related topics, especially those written by BIPOC (Black, Indigenous, People of Color) authors. We share this list as a resource to our colleagues who similarly wish to grow their knowledge and awareness of these topics:
So You Want to Talk About Race, Ijeoma Oluo
Me and White Supremacy, Layla F. Saad
The Water Dancer, Ta-Nehisi Coates
All We Can Save: Truth, Courage, and Solutions for the Climate Crisis, edited by Ayana Elizabeth Johnson & Katharine K. Wilkinson
Braiding Sweetgrass, Robin Wall Kimmerer
Land Acknowledgement
We acknowledge that the University of California was founded upon exclusions and erasures of many Indigenous peoples, including those on whose lands our offices at UC Santa Barbara are located, the villages and unceded lands of the Chumash people. We affirm the critical role of Indigenous peoples in our collective efforts to restore the health of the ocean and commit to elevating their voices and leadership in marine science and conservation.